100 years ago today (09/11/1916), 24 year old 2nd Lieutenant John Ronald Reuel Tolkien arrived in Southampton, one of the hundreds of wounded and ill servicemen returning home aboard the Hospital Ship Asturias.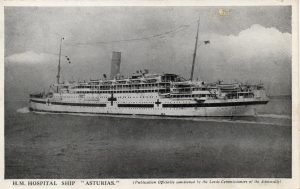 The Asturias was the third hospital ship to arrive in Southampton that day, the majority of injured coming fresh from the battles raging on the Somme. Tolkien had fought on the Somme and evaded injury, but four months of living in lice infested trenches had resulted in Trench Fever. Tolkien was taken by ambulance train from the battlefield to a hospital in Le Touquet where he remained for a week, but when his condition worsened he was ordered back to Blighty, sailing from Le Havre. On arrival in Southampton, ambulance trains were waiting to transport the patients to hospitals around the country, as close as possible to their home towns. Tolkien was put on a train bound for Birmingham where he would be reunited with his wife (whom he had barely seen since their wedding the year before). So efficient was the wartime transport system, that this whole journey was completed in a single day.
Tolkien spent the remainder of the war between hospital and Home Service camps. Although unable to fully shake off the illness, the lice probably saved his life, as following his departure, the remainder of his battalion, 11th Battalion Lancashire Fusiliers, 74th Brigade, were sent to Ypres where they were almost completely wiped out.
In his biography, Tolkien states that by 1918 all but one of his closest friends were dead. It was during the war years that he began to write. His experiences on the battlefields infused in his writing, evident in his most famous works: The Hobbit (1937) and The Lord of the Rings (1954-55). To read more about Tolkien's war click here http://www.telegraph.co.uk/history/world-war-one/inside-first-world-war/part-two/10356085/jrr-tolkien-war.html
With hammocks for 1200 patients, the Asturias was one of the largest of the 77 Royal Navy Hospital Ships operating in WW1. The Asturias was one of many hospital ships sailing daily between Le Havre and Southampton. However being on board a hospital ship was no guarantee of safety. 24 hospital ships were sunk by enemy action with huge loss of life. The Asturias was no exception, torpedoed off the Devon coast on the 20th March 1917. Click here to read about the fate of the Asturias. http://forgottenwrecks.maritimearchaeologytrust.org/asturias