There are only two more weeks left to take a trip to the Barbican Library to explore the artwork of our Artist in Residence, Mike Greaves. Mike has been volunteering with the Maritime Archaeology Trust since 2016 and has created over 50 beautiful and educational paintings for us. In June of 2014, Mike held his first successful solo exhibition entitled Rambling About London. He did not stop there! In June 2015, Mike presented a second solo exhibition of new work, entitled Revisiting Old Friends, at Southwark Cathedral. Since then he has been featured in a number of private commissions in London, Oxfordshire and Southampton.
Mike Greaves with his wife Kate and daughter Sarah.
Mike is currently presenting an exhibition at the Barbican museum, hosting a series of new ink and watercolour paintings that reflect the diversity of the extraordinary city of London- entitled London: An Artists Journey
Mike has kindly allowed the Maritime Archaeology Trust to include a small exhibition of artefacts recovered from the SS Camberwell, which hit a mine south east of the Isle of Wight in 1917 while on route from Middlesborough for London and then India with a general cargo. Seven crew members lost their lives in the sinking. The exhibition includes Mike's rendition of the ship. Mike is also displaying paintings of the John Mitchell and the USS Jacob Jones, two other ships lost off the south coast during the First World War. When you visit the library, don't forget to pick up our educational booklets on the USS Jacob Jones, War Graves from the First World War and Volunteering Matters, which tells of the many different ways volunteers have made the Forgotten Wrecks project possible. The artefacts on display have been loaned to us by Martin Woodward, owner of the Shipwreck Centre and Maritime Museum, Isle of Wight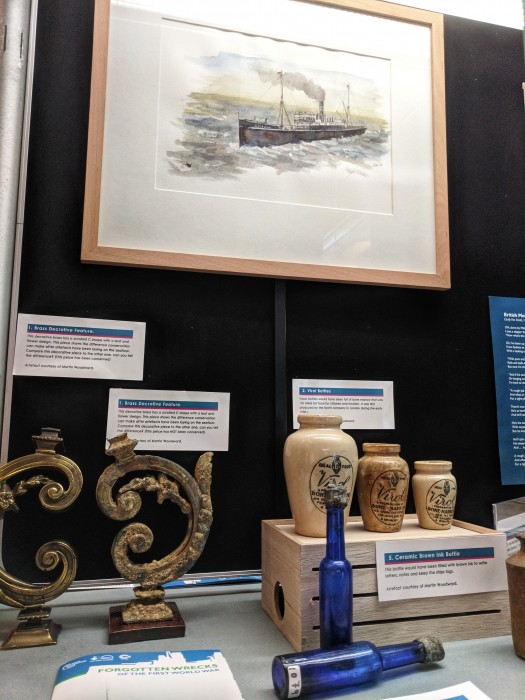 SS Camberwell and associated artefacts on loan from Martin Woodward.
Don't miss out on this exhibition! The painting are selling fast with 6 sold in the past week! To learn more about Mike Greaves work you can visit his website and can learn about other exhibitions and events happening at the Barbican 
How to get involved
You can become actively involved in the Maritime Archaeology Trust by becoming a Friend of the Trust, making a donation, or volunteering. By becoming a friend of the Maritime Archaeology Trust you will receive a membership pack, newsletters, updates direct to your inbox, a copy of the annual report and exclusive opportunities and offers as well as access to special events and activities for you and your family and most importantly, a chance to get involved in archaeological fieldwork both under water and on the foreshore. To find out more visit, http://www.maritimearchaeologytrust.org/donations