In light of National Volunteer Week 2017, the Maritime Archaeology Trust would like to highlight some of the important work contributed by our volunteers. We sent out a questionnaire for our volunteers to fill in and give us their view on what it is like to volunteer for the Maritime Archaeology Trust. This is what Mr Richard Wyatt thought.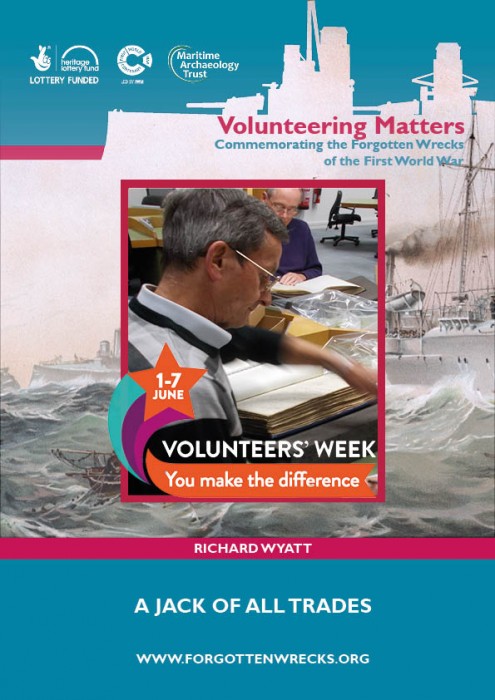 What do you do as a volunteer for the Maritime Archaeology Trust?
Production of Podcasts, re-organisation of basement storage, on-line research, field surveys, archive research, Fort Victoria audios, Maritime Bus, website proof-reading and editing, IT support.
How did you get involved?
An interest in archaeology (via ex-girlfriend), love of sailing & the sea (star-sign Cancer) via SVS and enthusiasm of Gareth Owen.
Anything you have learnt from working with the Trust?
Survey techniques, use of audio equipment (including software), the beauty of 1st edition OS maps, the mind-boggling resource that is the National Archives. Oh, and a great deal about the Hamble River (except whether it should the River Hamble.)
Have you enjoyed anything in particular?
The session at The Admiral Sir Lucius Curtis after re-organising the servers, getting out of the wind and onto a relatively smooth surface after several hours on Oyster Island, and the engine-room of SS Shieldhall. But especially the assistance and appreciation of the MAT team.
To learn more about what kind of work our volunteers do for the Trust, see the following blog post: http://blog.maritimearchaeologytrust.org/national-volunteering-week-1st-june-7th-june-2017/
Have you got a spare hour or day in the week and looking for something to do? Fancy learning new skills in archaeology? Want to learn more about our maritime heritage? Well why not drop us an email on volunteering@maritimearchaeologytrust.org today and find out more?